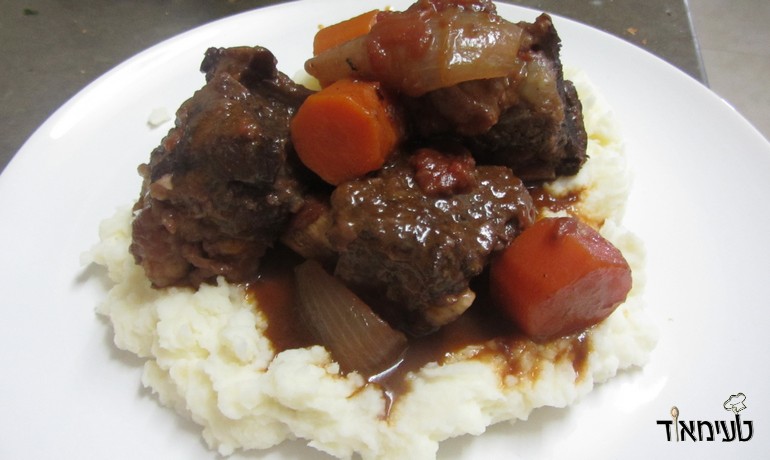 Asado in red wine is a delicious and classic dish. Asado is meat that comes under the ribs and requires long cooking and strong flavors - just what red wine and chicken stock are capable of providing. Asado comes out soft, delicious and wonderful. Recommended for events and banquets and impressing the neighbours!
Print
Pin
Rate
Ingredients
4

lbs

- Divided into cubes by the bones Asado

1/4

Cup

Flour

1

Tablespoon

Coarse Salt

As Needed - Be generous Ground Black Pepper

2

Tablespoons

Canola Oil

4

Carrots

2

Onions

Bottle

750 ml Red Wine

1

liter

- Chicken Stock substitute is ok Chicken Stock

1

Teaspoon

Thyme

30

oz

Crushed Tomatoes
Instructions
Put in a large bowl - the flour, salt and pepper and stir.

Put the pieces of asado in and mix very well until all the pieces are coated with flour.

Cut the carrots into cubes and onions into quarters.

Heat a tablespoon of oil in a large saucepan.

When the oil is hot - add the Asado until there is no room at the bottom of the pot. Fry on all sides and turn with tongs, making sure all sides have browned nicely and then place in a bowl.

Add another tablespoon of oil and fry the rest of the asado and remove to a bowl.

Place the carrots and onion and saute, stirring and scraping the bottom of the pot residue with a wooden spoon until the onion and carrots are lightly browned.

Add the red wine and scrape the bottom of the pot again.

Add the chicken stock, crushed tomatoes and thyme.

Return the asado and bring to a boil.

Meanwhile, preheat the oven to 400F.

When the asado is boiling cover the pot with a saucepan and place in the oven.

Cook for an hour.

Reduce the heat to 350F.

Cook for another hour.

Remove the asado to bowl.

Transfer the pan back to the gas and bring the sauce to a boil.

Reduce the heat keep on the flam for about 10 minutes - and then filter to make sure that the sauce comes out thick and smooth.

Ready!

Serve as is - with a spoonful of sauce and vegetables.

Or prepare a beautiful bed of mashed potatoes, place the asado over that and pour sauce.