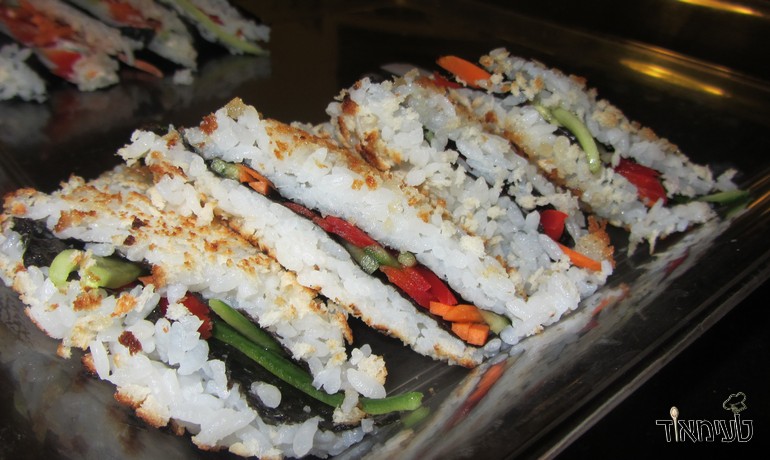 Inside Out Sushi Sandwich is just like an original sushi sandwich, but the opposite - that the rice is on the outside and the seaweed with the extras are on the inside. The inside out sushi sandwich is fun and delicious! Making a sandwich inside out requires a little more skill than regular sushi or sandwich sushi. Follow the instructions carefully and you will succeed.
Print
Pin
Rate
Ingredients
Link to follow... Sushi Rice

Whatever you want Extras for the sushi!

1

Atleast Seaweed

1/2

Cup

Panko Crumbs

2

Tablespoons

Canola Oil
Instructions
Prepare rice according to the instructions for basic sushi.

Cut and arrange the extras.

Take the seaweed, fold over and with a sharp knife - Cut down the middle to get two even pieces.

Place the seaweed on the surface with the rough side up, and with wet hands arrange a layer of rice on the seaweed and make sure that everything will be covered.

With the help of a sushi mat and plastic wrap, place on the covered seaweed - holding hands on the mat and seaweed and turn quickly.

Arrange the extras on one side and make sure they go across the whole length of the seaweed.

Carefully and gently (I use plastic wrap - and just pick it up in the desired direction) flip the other piece of seaweed with no extras. The result is a sandwich: rice, seaweed, extras, seaweed, rice.

Flatten the sandwich on the sides with a mat.

Take a plate and sprinkle panko crumbs on it.

Carefully transfer sandwich and place on a bed of panko crumbs.

Press down on the sandwich so that one side is nicely covered in panko crumbs and then flip and do the same to the other side.

Heat a pan of suitable size with oil.

When oil is hot carefully transfer the sandwich to the pan and fry for 2-3 minutes.

Flip the sandwich carefully and fry on the other 2-3 minutes.

Remove to a cutting board and with the help of a good, sharp and slightly dampened knife, cute the sushi into squares and then into triangles.

It is ready!

Serve with spicy mayonnaise, soy sauce and teriyaki.