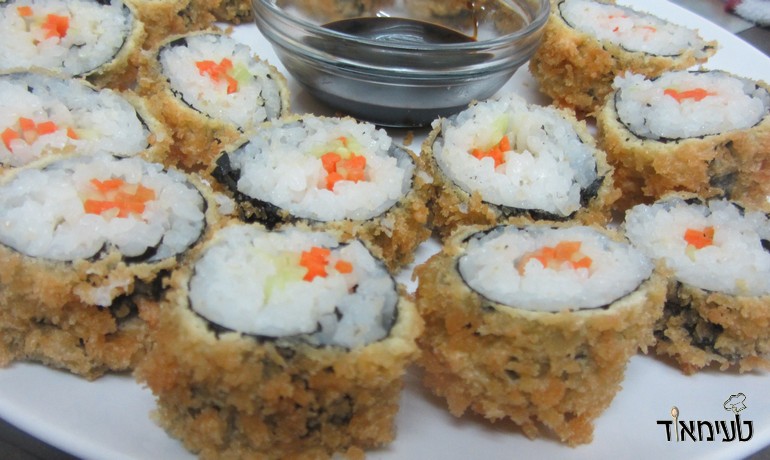 Tempura sushi is actually a standard roll sushi - crispy and delicious. It's as easy to prepare as ordinary sushi – you won't understand why they take so much money in restaurants...
Print
Pin
Rate
Ingredients
From the above recipe Sushi
For the coating!
1

Full Tablespoon Flour

1

Full Tablespoon Cornflour

1

Egg

A Pinch Salt

1 1/2

Cups

regular breadcrumbs also works fine! Panko Crumbs

For deep-frying! Canola Oil
Instructions
Place in a bowl the flour, cornstarch, egg and salt.

Beat everything with a whisk for about 2 minutes until the batter gets a liquid texture. Not to worry if you begin to get a doughy texture – continue to whisk until the egg gives in!

Boil oil to 350 F.

Prepare a tray with panko crumbs (i.e. with the sides - and the bottom straight – making it more convenient to roll the sushi).

If your rolls are too long for the tool or fryer, cut it in half.

Dip each roll in the tempura batter and coat the same way from all directions.

Transfer crumb Punk - Roll the sushi and take care that the sides will float environs.

Place the roll in deep oil and fry until golden.

Remove to paper towels.

Cut into inch thick pieces of sushi and arrange on a serving dish.

Ready!

Serve with a bowl of teriyaki sauce, soy sauce and wasabi.